Three islands make up this British colony - Grand Cayman, Cayman Brac, and Little Cayman. Grand Cayman located some 150 miles south of Havana, Cuba and about 180 miles west of Jamaica is the largest of the three islands (22 miles wide by four miles wide). George Town, on Grand Cayman, is the capital, serving mostly as a business center that borders a protected harbor popular with cruise ship passengers pouring in for top-notch duty-free shopping.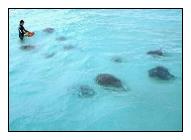 The National Museum occupies one of the few remaining 19th-century buildings, and chronicles the natural and seafaring history of the Caymans. Resorts and hotels line the cool, white sands of the renowned Seven Mile Beach, which is a popular spot where many visitors wind down after a morning of excursions. A must-see is Stingray City where you can snorkel with the inhabitants of Stingray City.
90 miles east north east of Grand Cayman is Cayman Brac. This island long known to those seeking to get away from it all. The "brac" or bluff crosses the island and along the shore. See orchids, papaya and mango tress, cactus and agave, as well as a bird population that includes the rare Cayman Brac parrot.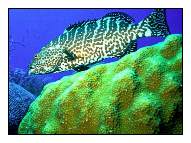 On Little Cayman, relax in a small hotel, lodge or a luxury condo. The main attractions here are diving the wall at Bloody Bay and fishing for tarpon and bonefish.
Originally named Las Tortugas (The Turtles) by Columbus when he sailed past and saw the sea alive with turtles, the Caymans are still rich with marine life, thanks to a mostly undisturbed environment and strict protection laws. Though suburban life and conveniences have settled comfortably into the Grand Cayman, you still find the simple life, relaxed life that have always made these islands so attractive.
An overview of Cayman Islands turtle farm, one of the main tourist attraction
| | | |
| --- | --- | --- |
| | Information about the turtles is posted at various stations around the farm to assist visitors during their self-guided tour | The farm currently cares for over 16,000 turtles of various ages and sizes. Now that's a lot of turtles! |
| The larger turtles are kept in the man-made breeding pond. Some grow as large as 600 lbs! | Feeding time at the farm. The turtles are fed a special blend of "turtle chow" customized to their dietary needs | |
| | | |
| Green Sea Turtle eggs being laid in the nest. One to three eggs come out at a time, until anywhere between 40 - 200 + eggs are laid. The average nest contains around 100 eggs. Note that the eggs are round not oval | | |
| | | |
| | | |
| | | |
| | | Everyone loves to "hug a turtle"! Turtles around a year old from the 'pick-up' tank can be held for a unique photo opportunity |
| Two lovely young ladies pose with their newly found friends. | Within 2-3 years, these turtles grow too large to be easily handled. By age 4, they usually weigh around 50-60 lbs | |
| Other inhabitants of the Turtle Farm…the Cayman iguana (Cyclura nubilia lewisi) is found only in Grand Cayman and is an endangered species | | After your tour of the farm, the Gift Shop has many wonderful, unique souvenir items to help you remember your visit. Proceeds from shop sales help towards the care and feeding of all of the turtles on the farm |
| The whole family enjoyed the Cayman Turtle Farm adventure! | Hawksbill turtle (Eretmochelys imbricata) swimming in the waters off Grand Cayman | Green Sea turtle swimming in the waters off Seven Mile beach, Grand Cayman. And yes, the water really is that colour! |